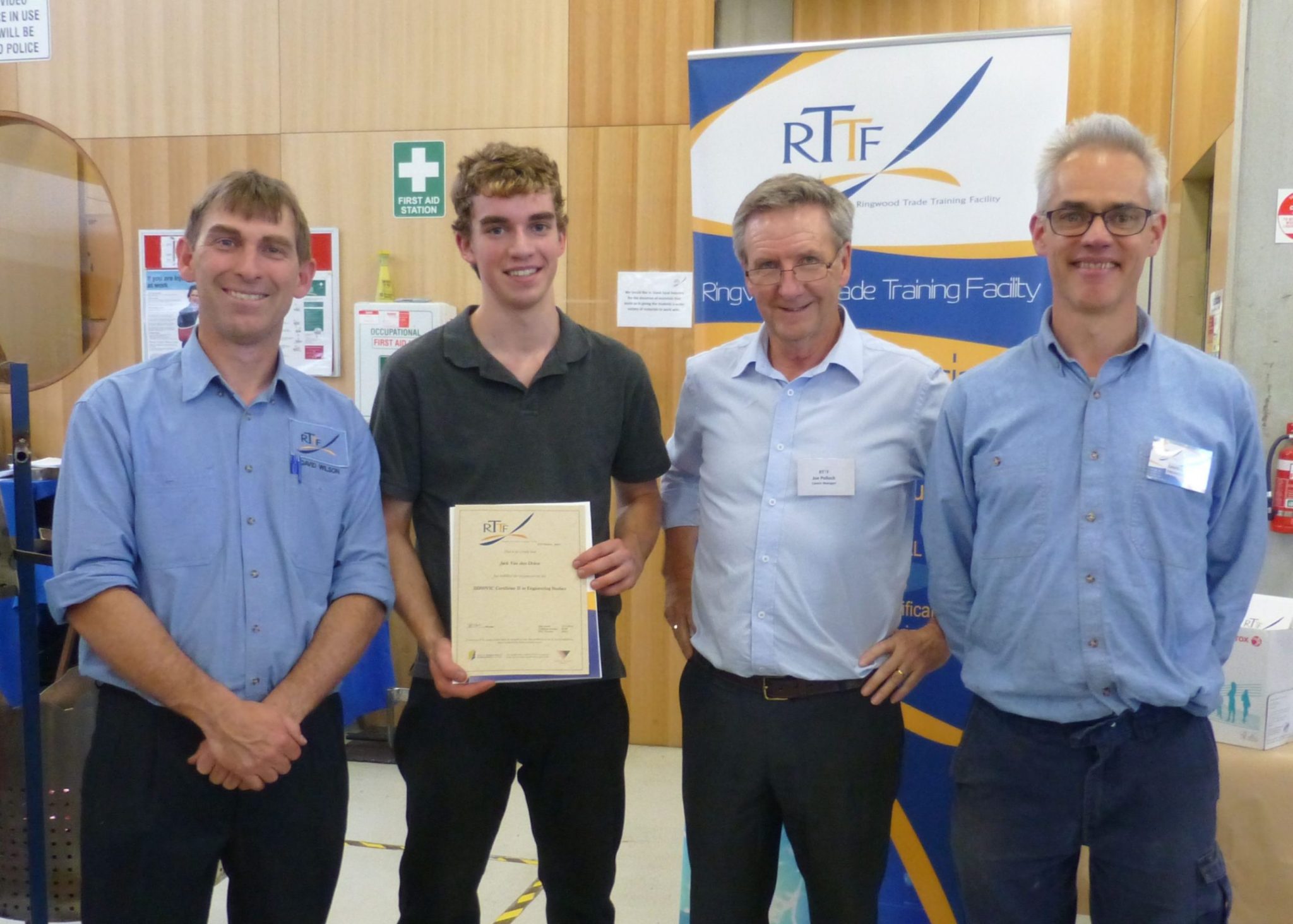 Ringwood Secondary College
Ringwood Secondary College
Promising practice – conditions are in place to achieve the aim of the initiative/dimension.
Engineering inclusion at Ringwood Secondary College
Ringwood Secondary College is a Registered Training Organisation that provides increased science, technology, engineering and mathematics (STEM) curriculum and career pathway options for senior students and supports the extensive delivery of VCE VET through its state-of-the-art training facility, Ringwood Training.
Purpose – to provide a range of vocational education options for senior students
 Audience – school leaders and staff
Dimension/s – Setting expectations and promoting inclusion, Building communities (see Framework for Improving Student Outcomes Improvement Model – http://www.education.vic.gov.au/school/principals/management/Pages/schoolperformance.aspx)
The challenge:
Ringwood Secondary College wanted to promote inclusion by offering an alternative applied learning approach for students looking for more active, hands-on teaching and learning styles. This included students capable of greater autonomy and accelerated learning and those at risk of disengagement.
The school led a successful application for Australian Technical College funding to build and equip a state-of-the-art onsite training facility.
The process:
The school sought registration to provide nationally recognised qualifications. It became a Registered Training Organisation (RTO) in 2006 and is now operating as Ringwood Training (RT).
RT provides vocational pathways for VCE VET in engineering, automotive, IT and Cisco networking to more than 350 young people, including senior secondary students from government, Catholic and independent schools across Melbourne's eastern suburbs. Courses and qualifications include School-based Apprenticeships and Traineeships as well as full-time apprenticeships. Students undertake Certificate II and III level training in the engineering and automotive programs, and IT training to diploma level.
'VCE VET Engineering opens up further education and employment options for students including studying engineering at university and taking up traineeships and apprenticeships to make careers in the new and emerging 'high tech' engineering industry,' says principal Michael Phillips.
'Differentiated teaching enables students to advance at their own pace. They enjoy the break from the more traditional academic classroom and teaching style. The teaching and learning climate along with this teaching approach sets high expectations, promotes mature behaviour, raises aspirations and provides opportunities for learning progress and employment,' he says.
Students develop a range of transferable planning, organisational, design and interpersonal skills in an environment in which teachers treat them as adults and set expectations that they behave in a mature manner. Competence and workplace safety require students to think and behave responsibly and be capable of assessing risks for themselves and others.
'Employers are increasingly seeking workers who can think critically and creatively, solve complex problems and use technology. Ringwood SC is already ahead of the game, providing an inclusive, top-quality vocational education and training system to support Victorians to develop STEM skills that lead to real jobs,' says RT manager Joe Pollock.
Ringwood SC has established strong strategic relationships with local employers, local government, industry and community organisations to support its programs and bring extra resources into the school. This includes tools and equipment, sponsorships for student awards and industry knowledge and engagement.
The school actively promotes STEM studies and careers by encouraging businesses to visit the training centre to see students work and to talk about their needs as employers. Staff and students conduct engineering workshops at universities and have created promotional videos that tell the story of exciting careers made possible by STEM studies.
Enablers:
The process was facilitated by:
a principal who values and champions education provision options for students beyond his school to the region
the degree of autonomy and entrepreneurial freedom given to RT by the principal
the establishment of a range of strategic relationships and partnerships that provide work-placement and pathway opportunities and extra resources
leadership of a highly experienced manager
priority of expenditure on staff and recruitment of high-quality trainers.
Barriers:
Issues common to RTOs, such as the relative status afforded to vocational as opposed to academic studies and pathways.
Issues documented by the recent McKenzie VET Review in the current competitive market model including the need for a more sustainable funding system.
Maintenance and updating of expensive equipment in a high-tech, high-cost environment.
Reliance on student numbers and entrepreneurial activity to cover costs.
Lack of timetable flexibility; releasing students on different days would enable better use of facilities.
Some students have complex support needs. Adult behaviour is a challenge to students coming from a more protected learning environment. Not all are ready to make the transition and need further time and support.
The impact:
Students are setting their sights on a range of engineering education and career goals from mechatronic engineering to engineering and leadership in the armed forces
Students who undertake VCE VET often transition directly into employment as apprentices
In the 2015 Learner Satisfaction Quality Indicators Survey, between 92 and 97 per cent of students agreed with positive statements about quality training, training conditions and learner engagement
Local employers actively seek RT school students as apprentices.
Next steps:
Ringwood Secondary College wants to make specialised facilities, equipment and expertise accessible to more pre-apprentices, apprentices and trainees in the broader community, and across the eastern metropolitan region of Melbourne.
A major focus for the school council is to plan for securing further funding to improve the physical learning environment of the school, including a new STEM and senior school centre.
School context:
Ringwood Secondary College is a single campus Years 7–12 school situated in outer-eastern Melbourne.
It has a current enrolment of 1517 students, and provides a balanced range of VCE, VET and VCAL studies to meet varied learning needs.
Ringwood SC is a Registered Training Organisation (RTO) and operates as Ringwood Training (RT).
RT has a catchment of more than 50 feeder schools from the government, Catholic and independent sectors and cooperates with three regional VET Clusters – Mullum, Eastland and Yarra Valley, and the at EAST SBAT consortium of schools.
Cultural diversity is enhanced with increasing numbers of students from Chinese, Malaysian, Indian and Burmese backgrounds. The school's English as an Additional Language program starts at Year 7 and caters for individual needs in small classes.
Who can I contact to find out more?
Michael Phillips, Principal
[email protected]
Shayne Vandeheide, Centre Manager
[email protected]
Ideas for using this case study:
Discussion prompts:
What pathway options could you add that will broaden your senior secondary school program?
How could your school overcome barriers to the delivery of VCE VET programs such as Engineering Studies?
What strategies does your school have for promoting the engineering element of STEM?
What's working in Victorian schools case study: